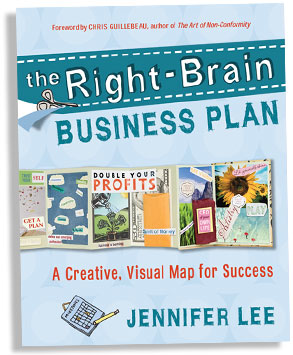 The Unique Genius Superheroes Interview Series is about ordinary people who have created businesses they love around their purpose.
Everyone has a purpose (or "calling"), and there are always ways to turn your purpose, any purpose, into a business you love. It's easier to live your purpose daily when you do it for work!
Today I'm interviewing Jennifer Lee, the author of  The Right-Brain Business Plan.  She helps people really get clear about what they want in their life and their business, AND she makes what people really want happen!  Jennifer is a certified coach, writer, artist, yogini, and the founder of Artizen Coaching.  Before pursuing her own passions full-time, she spent time in the corporate world, consulting for ten years for companies such as Gap Inc., Accenture, Sony, and HP, helping leaders and organizations manage change.
Now she is on a mission to empower people to awaken their innate creativity and make a living doing what they love (sounds familiar, doesn't it?!).  I was honored to talk with one of my fellow empower-ers on how she helps people.
In the interview, Jennifer shares about:
how she fell in love with life coaching in 2003
how she reached her limit and finally made the leap out of the corporate world in 2006
how she integrated her art and creative side to become a source of revenue
how what "services" you in the corporate world might "sabotage" your passions
the pitfall of "compare and despair" when creating your business
how to engage in "income and expenses" in a fun and artistic way
how making a visual business plan can help you perform more effectively
a few easy ways to bring more creativity into your life
And… she also shares the advice she would have given herself back in 2003 ~ valuable!
Listen To Or Download The Interview
Want to download the interview?
Click here to download…
More from Jennifer Lee

About Unique Genius

There's a process to discovering your purpose and turning it into a business. Find out the latest at www.UniqueGenius.com.
How are you making your business plan "visual"?
I did my own version of a visual, circular version of a business plan here.
Please leave a comment below!